SWITLIK has a long history of working with militaries and professional search and rescue teams designing products and features to meet their unique needs. SWITLIK has then applied that into products that are available commercially.

Let's take a look at some of the life rafts that are used worldwide by professionals, and are available to you.
MRP-10
Trusted by countless first response and search and rescue organizations worldwide, the quickly deployed and easy-to-board MRP-10 aids in getting large groups of distressed victims safely out of the water or down off a boat as fast as possible.
CPR
Commercial version of the life raft designed for and adopted by the US Coast Guard for their helicopter operations. With class-leading features, this professional grade life raft is available for open sport fishing boats, day cruisers or sailboats and everything in between.
SAR-6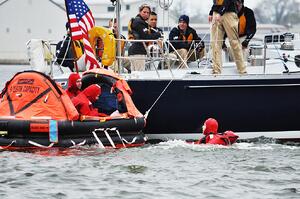 As the choice raft of numerous professional search and rescue teams around the world, the SAR-6 is built from the bottom-up to keep you safe and give you peace of mind in any sea conditions. The rugged transoceanic life raft is constructed from Nylon-HD tube fabric and features an auto-erecting convertible canopy, twin oversized tubes, and the patented TSD for the ultimate stability.
POD-8
Designed for and used by the United States Coast Guard as their light-weight, air-droppable 8-person search and rescue life raft. The POD-8 is constructed of an extra-large diameter tube providing over 200 pounds of buoyancy per person with inner sleeves providing complete redundancy in the event of a puncture.
Toroidal Stability Device
Developed from extensive testing and used by both the United States Coast Guard as well as the Royal Australian Air Force, SWITLIK's Toroidal Stability Device (TSD) is vastly superior to standard rectangular, Icelandic, or hemispherical ballast systems. Both the United States Coast Guard and the Royal Australian Air Force tested life rafts featuring our TSD in heavy weather conditions and tried, unsuccessfully, to capsize them with the down-wash from their helicopters. As the key component to our best-in-class stability, the TSD features complete wrap-around ballasting covering the entire perimeter of the underside of the raft with multiple, weighted, water-holding chambers. TSD is available on the OPR, OPR-HD, and SAR-6 life rafts.
When you need it to work, rely on the brand the professionals trust.
---
Related Posts
Preparing for your boat trip
When you need to abandon ship